Largest Private Mental Health Initiative in Guyana's History
The Guyana Foundation launched its mental health program in January 2014 to address a growing mental health crisis, and the third-highest suicide rate in the world. It has printed mental health posters that are mounted in every county in Guyana, conducted two mental health workshops, launched a dedicated mental health Facebook page, funded a mental health photo exhibition, and begun creating a database of mental health professionals in Guyana. It has also connected dozens of residents with mental disorders to mental health workers who can provide assistance to them, and collaborated with a mental health researcher from Maastricht University, the Netherlands, on a research study about the factors behind the high suicide rate in the country. Although this program is still in its initial phases, the Foundation's work has already drawn national attention to the issue of mental health.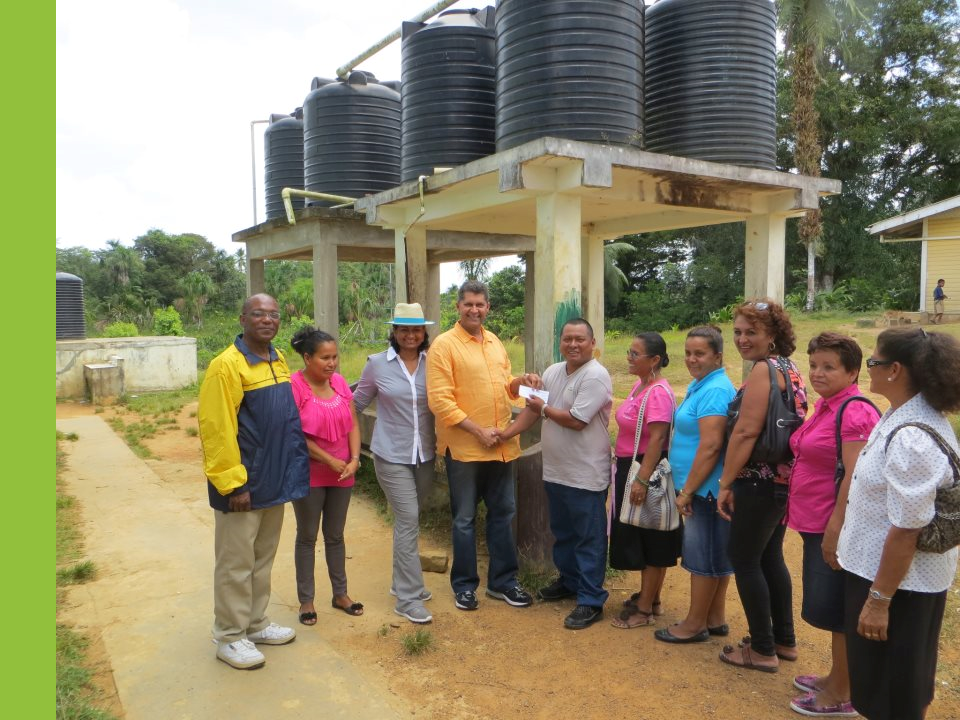 $2 million Donation to the Santa Rosa Primary School PTA
Hundreds of school children attending the Santa Rosa Primary School benefited from a donation of GY $2 million towards the school's Parent Teachers Association. These funds were used for much-needed infrastructural work at the school, including repairing sanitary facilities, constructing a septic tank, and upgrading the drinking water source.
Running Water for the First Time in Pigeon Island
Residents of Pigeon Island, a squatting community on the East Coast of Demerara finally have running water in their community. This was made possible after the Guyana Foundation successfully petitioned the Guyana Water Inc. to provide a water supply to this community, and paid the connection fees, and costs for pipelines into the area.
Lights in Breezy Point
Residents of Breezy Point, a poor village on the coast of Guyana without any electricity, now have solar-powered lights. These solar-light kits were distributed to the 50 families in the area by the Guyana Foundation. The portable lights enable school children to study at nights, and also assist residents to see when crossing the bridges into their communities, and when using outdoor toilet facilities at night.
Empowering Women in Remote Communities in Guyana
Women in the remote area of Wauna, near the Guyana border with Venezuela, now have a sustainable means of livelihood after they received a commercial baking oven that was donated by the Guyana Foundation. These women are able to bake bread and pastries to sell in their communities, as well as to miners in the surrounding villages.
Skills Training for Hundreds of Youth and Women.
More than 300 participants benefited from a free event planning seminar offered by Founder of the Guyana Foundation, Mrs. Supriya Singh-Bodden, at the Impeccable Banquet Hall in Georgetown. As part of this training, attendees gained hands-on, practical experience with various aspects of event planning, and were equipped with skills to start their own event planning business.
Volunteers Featured in Ministry of Foreign Affairs of Japan Project
Guyana Foundation volunteers were featured in a 2014 calendar prepared as an approved project by the Ministry of Foreign Affairs of Japan for the Japan-CARICOM Friendship Year 2014. Photos of the Foundation's volunteers in action were prominently featured, along with its logo on every page of the calendar.
Free Eye Clinic for Underprivileged Residents
The Guyana Foundation, in collaboration with the University of Guyana Optometry Department, organized a free, walk-in eye-clinic for the underprivileged residents of Pigeon Island. Many of these residents have never had an eye test previously because they could not afford to pay the cost. Those individuals requiring eye-glasses received those free of cost, thanks to a generous donor.
Distribution of Essential Personal Items and School Supplies
In many of the communities that the Guyana Foundation works in, residents are unable to provide essential personal items and school supplies for themselves and their families. Through the support of generous donors, the Guyana Foundation has distributed footwear, children's books, school supplies, backpacks, and toys to hundreds of individuals in different parts of the country.
Empowering Young Children
The Guyana Foundation gave a number of young, underprivileged children, the opportunity to be a part of its Christmas Concert. Many of these children had never been to the capital city, much less, participate in an event with an audience that included high-level national leaders, diplomats, businessmen, etc. These children were provided training, introduced the various performances in the concert, and some got the chance to participate as well.
Want to learn more?
We send out periodic newsletters with updates of all that's happening at the Guyana Foundation. Click the button below to view our newsletter archive